Bamboo, Green beans, Red Peppers, Zucchini and Basil Leaf in Coconut Green Curry Sauce on a bed of steam Udon Noodle.
12 pcs of Sushi, 18 pcs of Sashimi, 2 Chef's Testers, J.B Roll & California Roll.
Krab, Eel, Salmon, Cream Cheese, Avocado and Asparagus.
Sautéed Tomato, Cucumber, Pineapple, Carrot, Onion, Baby Corn, Mushroom and Snow Pea in Sweet & Sour Sauce.
Stir-fried Udon Noodle, Egg, Carrot, Broccoli and Snow Peas.
Grilled Shrimp with Mixed Vegetables and Teriyaki Sauce.
Grounded chicken wrapped in wonton skin with chicken broth.
6 pcs of Nigiri with choice of California, J.B, Spicy Krab, Spicy Salmon or Spicy Tuna roll
Lightly Grilled Tuna ( Raw Center) served with stir fried mixed veggies and top with Ponzu Sauce.
Veggie roll, 1 veggie Nigiri & 2 tofu bags(stuffed with seaweed salad) ( Check the Lunch menu for more details.)
Steamed Rice paper stuffed with vegetables & Chicken. ( Also Served with Tofu, or shrimp ) Served with Sweet & Sour Sauce and Peanuts.
Katsu-style California Roll topped with baked spicy Lobster Volcano Sauce and Masago.
Stir-fried Rice Noodles with ground Peanuts, Bean Sprouts, Egg and Scallion.
Tuna, Salmon, Escolar, Krab, Masago, Asparagus, Avocado and served with Ponzu Sauce (no Rice).
Sautéed Onion, Red pepper, Corn, Mushroom, Snow Peas and Bamboo in Sweet Basil Sauce.
Salmon Tempura, Cream Cheese, Avocado and Masago topped with Volcano sauce, Spicy Mayo and Eel Sauce. I/O
Stir fried Egg Noodles, Egg, Mushroom, Broccoli, Carrot, Snow Peas.
Stir fried Clear Noodles, Egg, Onion, Scallion, Mushroom, Broccoli, Carrot, Snow Pea and Tomato.
Deep fried Shrimp, Broccoli, Onion, Carrot, Sweet Potatoes and Zucchini. Served with Tempura Sauce and Jasmine Rice.
Combination of three Rolls: California Roll, Tuna Roll and J.B Roll.
Green salad topped with Avocado and Krab with ginger dressing.
Lightly seared and thinly sliced tuna with ponzu sauce.
Deep-fried lightly battered Lobster Tail with the choice of Pad Thai or Fried Rice.
Grilled Chicken on skewers (3pcs) served with Shrimp Fried Rice and Peanut Sauce.
Sautéed lightly battered meat with Thai Spicy Sauce on Top of Steamed mixed Veggie.
Fried or steamed shrimp dumplings (7pcs)
Shrimp and Chicken wrapped in Spring roll wrapper delicately deep fried and served with sweet chili sauce.
Katsu-style Roll (Asparagus, Avocado & Cucumber) topped with mixed Tuna, Salmon, White fish, Pineapple, Orange, Seaweed salad, Jalapeno, Masago & Chef's spicy sauce.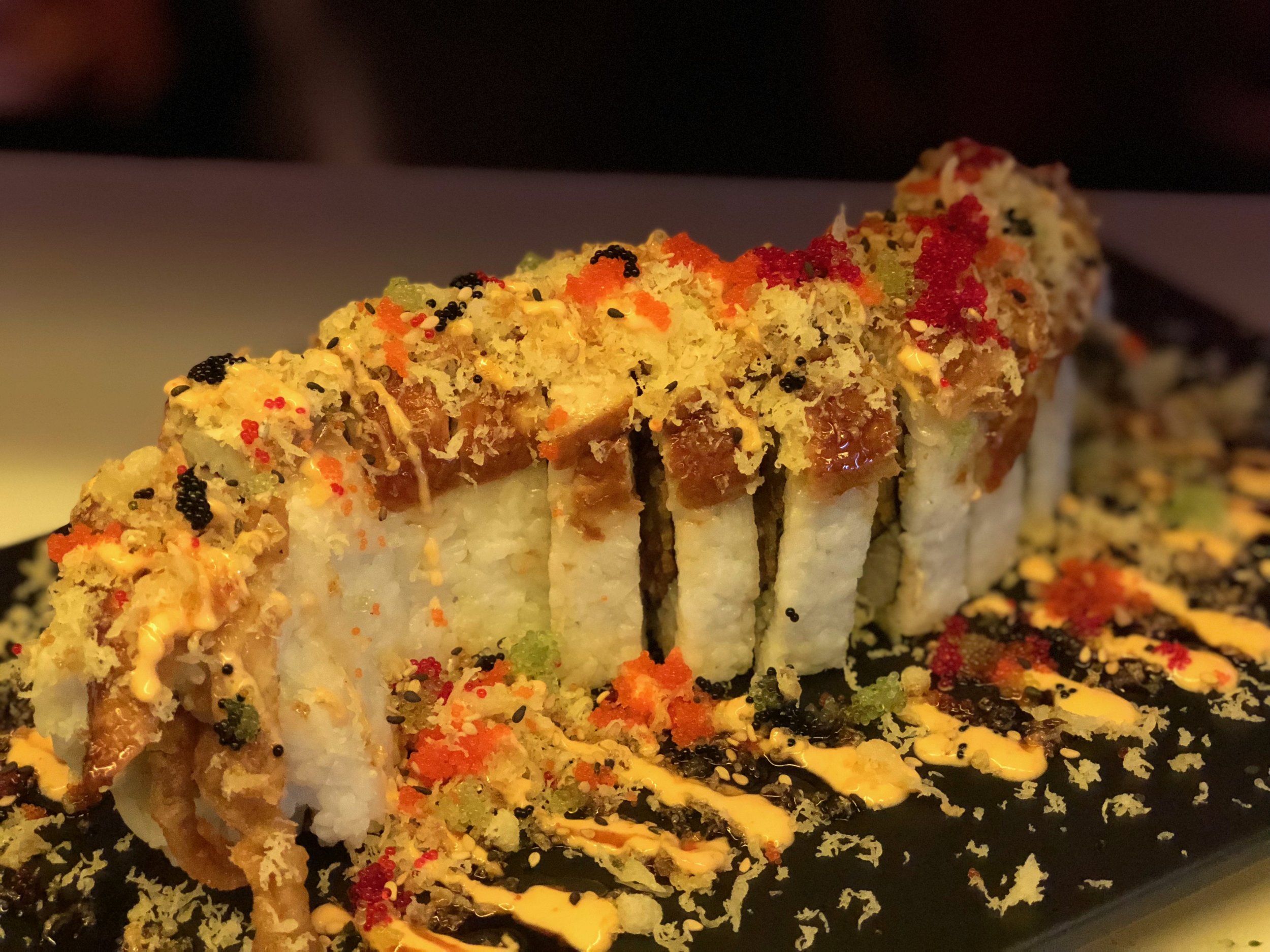 Soft Shell Crab, Asparagus, Avocado, Krab, Cream Cheese topped with Eel, Tempura flake, colorful fish egg, Spicy Mayo and Eel Sauce.
Shrimp Tempura, Spicy Krab, Avocado, Cream Cheese topped with Tuna, Tempura Flake, Spicy Mayo and Eel Sauce. I/O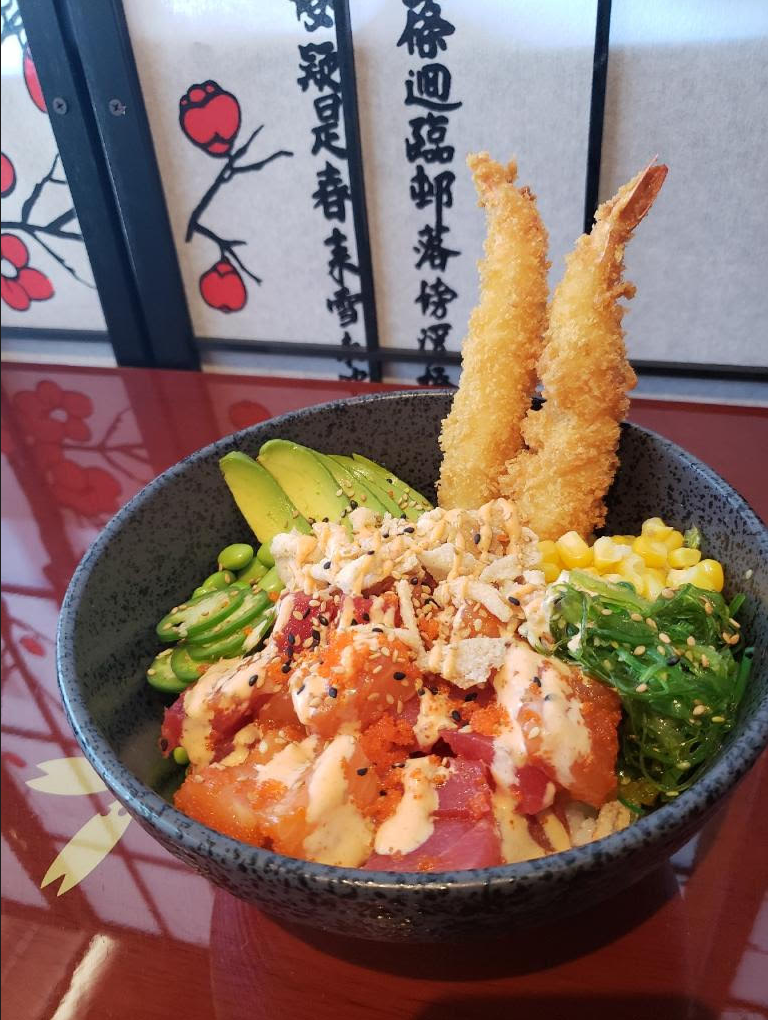 Sushi rice, Corn, Avocado, Edamame, Jalapeno, Seaweed salad, Crispy Onion, Masago, Spicy Tuna & Salmon, Sesame seed, Shrimp Tempura and Sweet Chill Mayo sauce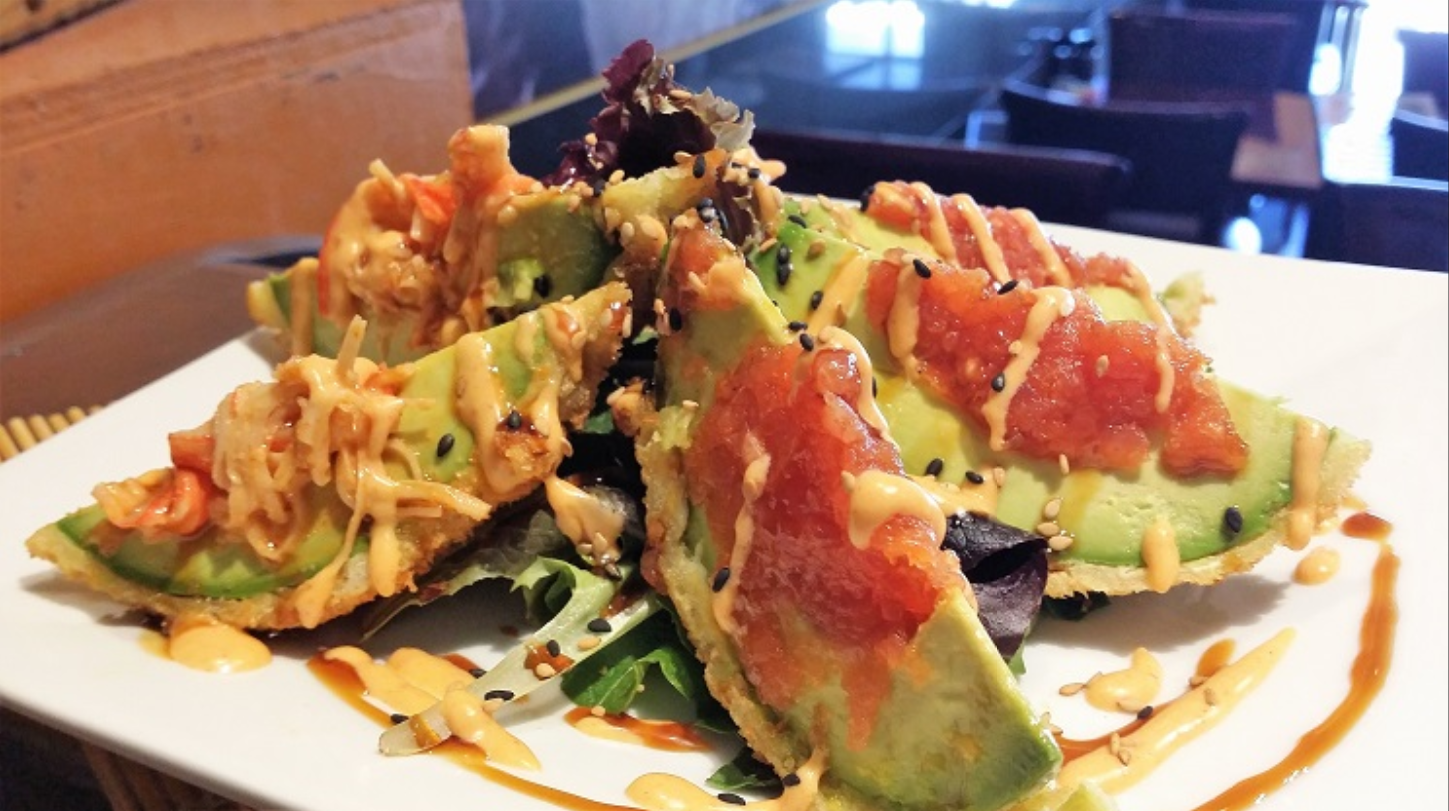 Tempura Avocado stuffed with spicy Tuna, Spicy Krab topped with spicy Mayo and Eel sauce.